●"Bass sound shocked me just like huge wave rushing toward me.
This work will ask the market the evolution of the high-end audio system!"
---Seiichi Goto [a jazz critic]
●Please check out sound of your audio system by this work recording overwhelming dynamic range sound.
At last we've completed the first work of analog disks which we designed for 4 years.
The set has 4 analog disks(12inches/45rpm/200g/recording one piece a side of disk---highest specifications in the analogue-recording history),
and also has 1 MASTER CD-RIIα made by direct digital cutting.
We will sell 300 sets only!
Takaaki Konno,our total sound artist,improved cutting technology to make quality of sound better,
and invented digital direct cutting by 192KHz24bit which has been never done by anyone else and draws potential of analogue disk to the maximum.
The ultimate analog sound was born.
Please feel real and supreme sound which we created for all the audio fans!
Here are all the processes of manufacturing ULTIMATE MASTER VINYL!
We pursue perfection and never compromise in any process when manufacturing ULTIMATE MASTER VINYL.
We show you all the processes here for the first time. These are unbelievably full of careful works.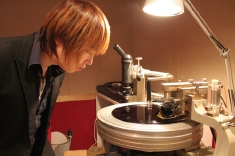 ---The best condition for analog disk---
"What is the ultimate analog disk?" To answer this question,I spent 4 years.
Giving volume, gaining sound pressure, narrow range, etc.---as a result of having processed these to give force for and to hide distortion of sound,
feeling of dynamic that was a good point of analog record has been lost.
In digital recording which brings out few distortions originally, we don't have to gain sound pressure forcibly,
but to keep feeling of unartificial air while describing the three-dimensional impression of instruments by cutting in reasonable level.
I got convinced that we can make the best disk when mixing good aspect of digital and that of analog, and condensing them.
I decided production so as to produce hybrid of digital and analog, so to speak, disk of the next generation.


---True direct cutting---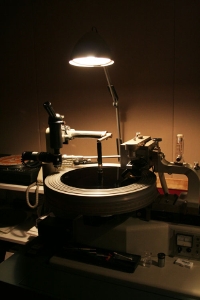 Master data once copied to CD-R or DVD-R are usually used in cutting of analog disk. Taking this way causes data loss.In order to avoid this loss,I set PC equipped with recorded hard disk and Pro Tools in the studio.In addition, I divided master data 2 into a system to prevent an expanse of the ditch width in the output of master data.I used one system for readahead and processed another by digital delay of 0,9m/s to make siginal for cutting.
Of course I knew advantage of adopting ditch width control,but this time I omitted it to convert original data into cutting signal directly.I realized realtime cutting while writing in data,by sending data directly to console from Pro Tools via special order cable without even using delay machine ---This is the direct cutting in the true meaning.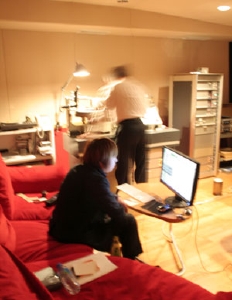 ---The best environment to bring about the best---
It is Toyo Kasei co.,ltd. to do cutting, which have ever released a lot of masterpieces till now.
I made original measures on the studio this time.
Appliances such as Cables for Pro Tools which I tuned up and used at the studio were in the same condition as those of the T-TOC studio
---using Acoustic Revive's power supply cable, power supply tap, etc...
In addition, the electrostatic removal when cutting for several hours, irradiating anion on labels for production disks,
and playing "ZERO"Moment MAX(sound source of zero magnetic field energy's outbreak) ---I also did these things to creat the best environment for cutting.

---Cutting of five times---
Rich low-range sound of hammond organ and peaks of each instrument bring about a few distortions.I repeated adjustment of 0.1dB unit never to overlook sound distortions which are OK usually.And I selected the cable every piece to draw loveliness of each.I did cutting five times and spent five days in it to create such sounds as I imaged.Enormous expense, troubles, time and love were poured into this work.

---45rpm, 12inches, most 200g in weight, one piece a side of disk---
ULTIMATE MASTER DISK was completed in this way.
I selected the best condition for the disk as specifications from conditions that I can think about at present.
Its specifications are "45rp,12 inches, "most 200g in weight", and "recording one piece a side of disk".By recording one piece a side of disk I didn't have to use inside diameter which causes sound quality deterioration.
Furthermore, the set has two disks with double jackets, a special box, and a serial number.
I want you to enjoy splendid sound quality of the luxurious analog disk that has never been beforeby your audio system.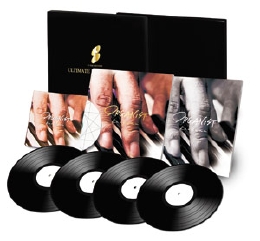 KANKAWA "ORGANIST"
8/12/2010 on sale / UMVD-0001〜4 / ¥39,800
200g / 45rpm / recording one piece a side of disk / 4 analog disks plus 1 MASTER CD-RIIα
The first in the world! Digital direct cutting by 192KHz24bit
Two disks with double jackets of two kinds of designs
A serial number completely limited
The Most luxurious 5disks'set ---4 analog disks plus 1 MASTER CD-RIIα


New organ sound! A masterpiece will be born...
By this recording,he opened his new frontier, and created new organ sound.
"Silent" KANKAWA plays standards, many of which are ballads.
By various formations〜solo, duo, trio, quartet, he makes you feel in your body the true beaty of organ sound you've never done before.
<Track List>
1. Dear Myself
2. Left Alone
3. Softly as in a Morning Sunrise
4. A Night in Tunisia
5. Misty
6. Satin Doll
7. Blue Bossa
8. Portuguese Soul